This year the US-China Peoples Friendship Association (Minnesota Chapter) will be floating "Team Friendship" once again, and once again we are looking for paddlers, helpers and sponsors/backers. The event will again be held at Phalen Regional Park in St. Paul, on July 13 and 14. We have registered a boat for Saturday, July 13 (yet to be confirmed by the Dragon Boat Association).  For more information about the event, visit www.dragonfestival.org.  For information on how YOU can participate or help, see below!
Team Friendship is one way that the USCPFA-MN fulfills its mission of building mutual understanding and friendship among the peoples of China and the United States.  In prior years, our team has been the model of diversity (10 men and 10 women; 10 people of Asian heritage, 10 of Western; age range from 19 to late 60's; different interests and occupations) but one singular goal: spending a day appreciating the culture of China among friends right here in Minnesota (and getting a brief but intense physical experience out on one of our 10,000 lakes as well).
Participation as a paddler/drummer/flag catcher entails showing up the previous Thursday evening for a short meeting (and distribution of the coveted shirts), and then spending from about 9:00 am to about 4:00 pm at the festival on Saturday. In the afternoon there are two races of two heats each, plus practice runs in the morning. Lunch will be provided (thank you, helpers), and we are hoping to serve the traditional zong zi (粽子)again. The team has its own tent and gathering area, and the festival grounds are full of information booths, live entertainers and food vendors as well. This year, the team will be captained by Mr. Bing YANG, a dragon boat veteran and leader, while Cap'n Ralph goes to "Cap'n Emeritus" status.
For participants, the fee will be $35 per person this year, which includes the shirt, lunch and drinks, and a place in the boat.  We are again seeking sponsors (whose generosity has helped us make this happen in the past) whose NAMES (for contributions of $100) or LOGOS (for contributions of $200) will be PRINTED ON THE SHIRTS (if desired). Contributions of any amount, from paddlers or sponsors, are greatly appreciated. (This all helps to defray the considerable cost of registration/boat rental.)
We would like to personally encourage each of you to consider paddling (or drumming, or flag-catching), as well as contributing (and/or approaching your businesses or employers) as sponsors this year.  Let's make 2019 another great year for Team Friendship!
Yours in friendship,
Cap'n Ralph (Aka Ralph Beha, President, USCFPA-MN) and Bing Yang
TO SIGN UP AS A PADDLER, A HELPER OR A SPONSOR, PLEASE CONTACT
CAP'N RALPH AT ralphbeha@comcast.net OR BING YANG AT byang@hsml.com
RIGHT AWAY, AND BEFORE MAY 15 FOR SURE! OR SIGN UP ONLINE!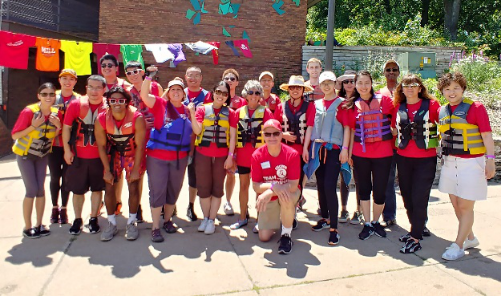 This is the 2018 "Team Friendship" and we are waiting for you for this year!